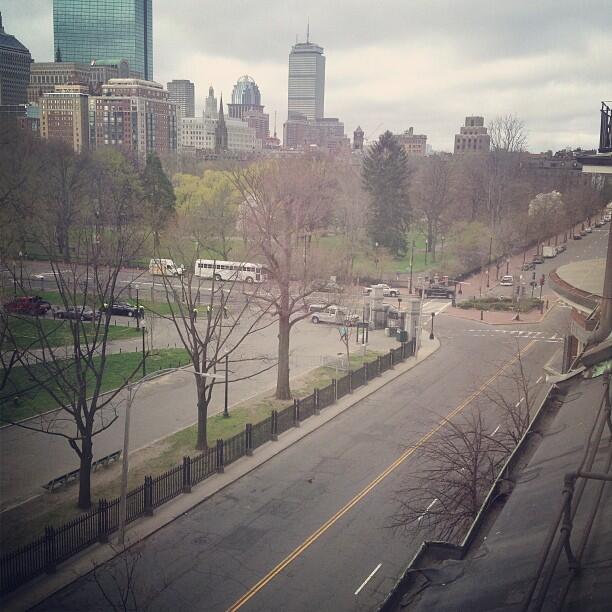 A lot of emotions today. I was torn between wanting and needing to watch as every detail unfolded, and not wanting to give the suspects the satisfaction of my attention.
Today was a relief and a victory: the suspects are no longer at large, and one of them is alive. And alive means we may finally get some answers.
The thing is: I'm not really expecting answers. Sure, the BPD and FBI did an amazing job to catch this guy alive… but what could he possibly say that would give us any sort of satisfaction?
To ascribe motivation to a mad man, is almost as if to say that hurricanes destroy homes for a premeditated reason. Mad men are just that: mad. Logic and reason elude them. To ascribe to them a "reasonable" motive, is to miss the point: that there is none.
Of course, that makes no sense to us. It's hard to imagine someone doing something so grave without having a reason for doing so. But it's hard for us to imagine because we are rational. Trying to describe irrationality within the framework of logic is folly.
Obviously, that's an oversimplification. Currently, it's too soon to tell what was going on with these guys. They may have had a real, and horrible motive. They may not be mad men: they may just be purely evil men. But I just hope that in the frenzied aftermath we don't want so badly for them to have a motive that we inadvertently invent one.
In times of uncertainty, it's more comforting to think of events like this through the lens of reason. If they did this for a reason, then we should be able to change something… exert some sort of control. We can potentially change something, and create a different set of circumstances thereby preventing the next incident. If they're just… mad… and these acts are basically random, then we can't control our own futures.
That's a highly discomforting thought in an already highly discomforting time. But it doesn't make that thought untrue. To find out, we'll have to see what the suspect says in the weeks ahead.
Earlier this week I wrote the following:
It's moments like these when we really search for some sort of meaning. It has to mean something… right?
And today as we celebrate our relief, I'll just say that the place we should be looking for meaning should not lie with the suspects' motive: that gives them too much power over us. We should not be looking for meaning by crafting panicked policy responses promising to prevent the next horrific attack (but ultimately falling short because you cannot legislate away madness). We should not be looking for meaning in any place other than in each other.
Because this week people came together. We came together.
Immediately after the bombing, we saw local heroes like Carlos Arrendondo (pictured above) respond to the scene with an intensity of effort and selflessness that is hard to imagine. We saw the doctors, nurses and paramedics in Boston coordinate a massive and unprecedented relief effort that lead to the survival of every single person wounded in the initial blast. This week, we saw a massive outpouring of MIT student love for their fallen campus police officer. This week, blood donation centers around Austin (and I know this is true of other communities as well) could not take nearly as many people as were offering to help the victims of the West, Texas accident. This week we stood as one.
The weeks to come may or may not give us the bombers' motive. They may or may not give us a "reason" why this all happened.
But even if they do not, we came together and lifted each other up during this time of heartache. And I take meaning in that. And that is something worth celebrating.